The good news? You've just created a shiny new positioning statement. You've labored over how to frame your target market. You've wordsmithed your competitive differentiation. You've detailed the how those differences make your product better. Now you're ready for the market to respond and pay off all that hard work.
The bad news? It probably won't.
What a positioning statement is and why you need one
Don't get me wrong, a great positioning statement serves an important purpose. It sets in (virtual) stone:
How your company or brand wants to be perceived by a target market
Why and how that's different from your competitors
Why and how that benefits your market
Usually positioning statements follow a template that goes something like this:
For [MARKET], [BRAND] is the only [PRODUCT] that [DIFFERENTIATORS], because [REASONS]. 
You can find tons of examples here, and here, and here (this one writes it for you, even!), so this post isn't about that.
It's about how you can fill in all the blanks perfectly and still get far from perfect results.
Why your positioning statement will go wrong
1. Actual vs. Aspirational.
Your positioning statement is not a wish list. It defines a company's or brand's current position to help focus marketing and messaging decisions. That means that, when read through, all the elements should be (a) true and (b) already the case. If your statement doesn't meet both conditions, don't use it. Even better, rewrite it until it does. Otherwise, you're likely widening the gap between how you want to be perceived and how you actually are. That's never a strong position to be in.
If you don't like your actual position, use that frustration to fuel change. Leave your aspirational position to your Vision Statement.
2. Benefits vs. Reasons
Your positioning statement is not sales copy. It is an internal document. I repeat: INTERNAL. It shouldn't show up in your marketing materials. It shouldn't creep its way onto your website. I stress this because it can be super tempting to think that the "REASONS" portion of your positioning statement needs to be features and benefits. Now, I'm not saying your statement shouldn't include features and benefits. Again, that can be helpful to clarify messaging decisions. But if you really want to make those marketing decisions smarter, make sure to include the reasons the benefits are different.
3. Outside vs. Inside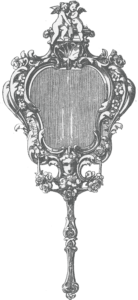 Your positioning statement is not a mirror. It's a lens. It's the lens through which you make decisions about your marketing and messaging. And lenses go two ways. Why is that important? Because I firmly believe you should not develop your positioning statement alone, nor should you fully outsource. If you develop it alone you're likely, like a mirror, to end up reflecting back your inside views: your own aspirations and benefits. If you outsource to an agency, well, then it's easy to dismiss the feedback you get as "wrong" because it doesn't match up to what you want to see in the mirror. It's "from the outside." The best answer lies in between: develop your positioning statement with people who can provide a fair outside perspective, but that you still own as coming from within.
How to keep your positioning statement on track
Look back at your positioning statement. Does it fall prey to any of these three? Fear not, as there are fairly simple fixes.
First, don't start by trying to fill the blanks of the positioning statement. While that may sound all kinds of backward, filling in the blanks first is like trying to set a piece of coal into an engagement ring. That lump of coal needs some work before it turns into a diamond worthy of the setting. The same thing is true for your positioning statement: what ends up in the blanks is the product of other work that has to come first:
Second, don't do it alone. You want to make sure your positioning statement reflects actual perceptions of the market. You also want to make sure the reasons for that positioning make sense in the market. That means at the very least getting outside perspective to help guide and check your discussions. When I work with clients on this, it's common for them to not even realize when they've fallen back into Aspirational Insider Benefit-Speak (I call it AIBS for short). Sometimes just questioning a statement — "Is that what's true now, or what you want to be true?"— is enough to get the team back on track. If your budget doesn't allow for even a one-day messaging session (which clients find is usually enough to get something workable), try bringing in new staff that hasn't yet been fully immersed in your thinking. Someone new can often still hold the outside view.
Finally, once you've gotten the outsider perspective, test your statement with your target market afterward (there are research solutions at all levels that could help here). Yes, your positioning statement is an internal document, but since you're using it to guide your thinking in the market, make sure the market understands and agrees with it. You'll only know that by actually testing it with them… but please please please not in your actual marketing copy.
The Red Thread of positioning statements
Your positioning statement plays an important role in keeping your messaging consistent. But just because it meets the form of a great statement, it may still miss the mark on the function of it: a lens to help you see your brand's current position in the market more clearly. That means you need to do the work of understanding why you hold the position you do, so that the reasoning (and not just the words) guide your marketing and messaging decisions. To do that, get outside help — or the closest you can get — to test your assumptions and explanations.
When you do that, not only will you see your own position more clearly, the market will, too.
Your positioning statement is not a wish list. It defines a company's or brand's current position to help focus marketing and messaging decisions.
Click To Tweet
Your positioning statement is not sales copy.
Click To Tweet
Your positioning statement is not a mirror. It's a lens.
Click To Tweet