Le Cordon Rouge
Virtual Intensive
To create change, you have to build your audience's case for it.
In the Le Cordon Rouge Mastermind Intensive, that's exactly what you'll learn to do.
For over 20 years, I've helped people and organizations build big ideas — big ideas like yours.
And in building those big ideas, I've learned a thing or two about how the biggest ideas change how people see, and what they do as a result.
The key to that kind of change — real, sustained change in thinking in behavior — doesn't lie in changing what people already want and believe. It lies in validating what they want and believe.
Because how people see drives what they do, you need to build their case for change. You need to build their case for your idea.
It's this fundamental truth that led me to develop The Red Thread®, a step by step system to connect the answer your idea represents to the questions, the goals, of the people who need to act on it.
The magic? When you find that connection, you also find the key to turning your idea into something they can't unhear. Something that changes the way they see their world… and yours.
Why "Le Cordon Rouge?" Well, just like the fancy French culinary-based institute Le Cordon Bleu has a distinctive teaching methodology to teach the art of French cooking, Le Cordon Rouge is designed to teach you the fundamental tools and techniques of the Red Thread. (Plus, it's fancier...and French-ier — "le cordon rouge" roughly translates to "the red thread" — and that's just fun.)
For two years now, I've provided the mastermind as a 10-week program, but, for a limited time, I'm offering the chance to complete the mastermind over a course of just a few days. 
Join me as a member of the Le Cordon Rouge mastermind intensive and learn how to do that for your big ideas.
The words you use are the key to big impact.
Is this intensive program for you?
To answer that question, let's put that into a Red Thread:
Your Goal: How can I make my idea — or my organization's product, service, or expertise — have the impact I want it to have?
The Problem: There's a big difference between what you want to say about your idea and what people need to hear before they act.
Truth: Ideas aren't found, they're built — both in their head and yours.
Change: Rebuild your — or someone else's' — idea in the minds of your audience.
Action: Apply to learn how to do just that as part of the Le Cordon Rouge mastermind, three months of intensive, guided coaching with a select group of peers — idea builders and idea translators just like you.
How would you use Le Cordon Rouge?
"We must learn to be equally good at what is short and sharp and what is long and tough."
Winston Churchill

I've tested the approach you'll learn with hundreds of ideas and hundreds of clients, including the most skeptical and story-phobic. (I'm looking at you, scientists and engineers!) I've taught it to thousands more.
People have used the Red Thread method to build communications as varied as these:
Marketing messages and materials

Home page copy
About Us page
Social media bios
White paper
Positioning statement
Market-level message

Strategic sales conversations

Initial meeting or call
Conversation or presentation with decision-makers or technical leads
Final pitch
Executive summary of a proposal
Sales deck

Pitches and presentations

First stage, "about us" presentation
Investor pitch
Breakout session
Keynote presentation
Multi-part workshop
Internal conversation asking for commitment or resources

Fundraising asks

Fundraising materials and slide decks
Case statements
First conversation
The Ask

Books

Summary for a book proposal or treatment
Back cover copy
The results? My clients (and others) have used the Red Thread to raise millions of dollars for their research or for their start-ups or other organizations. Dozens of companies have used it to frame the basis of their internal and market positioning.
It's also provided the starting outline for multiple books, including bestsellers, and for hundreds of presentations that range from internal update meetings to keynotes and TED and TEDx talks (10 million-plus YouTube views and counting).
So, yes, it helps you get the impact you envision for your idea.
The Le Cordon Rouge Mastermind Experience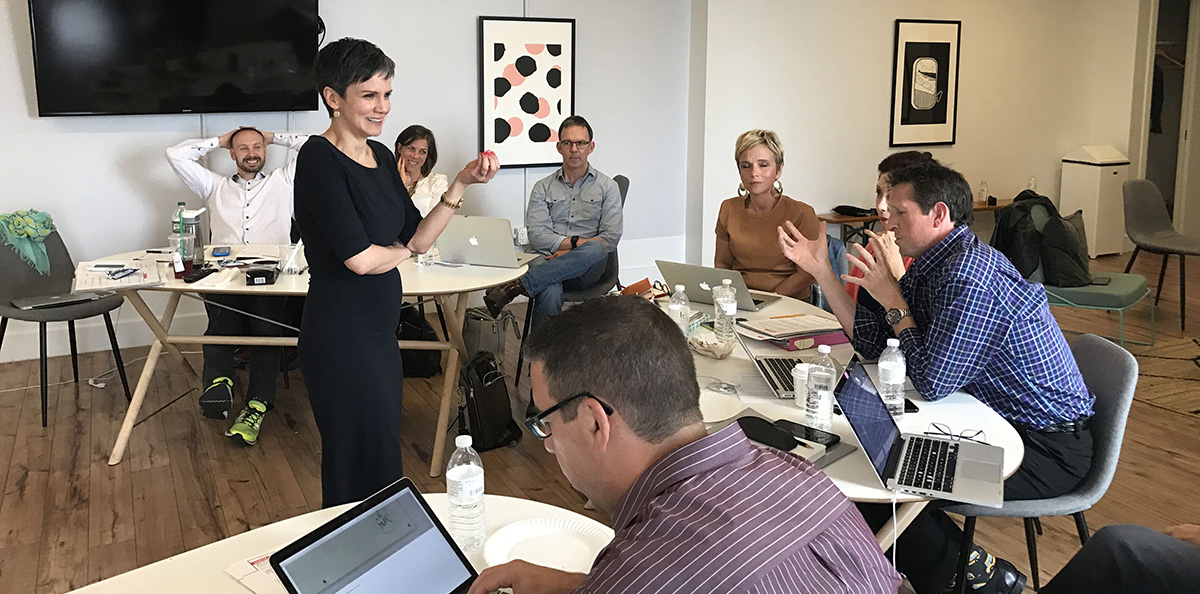 For years I've offered one-on-one consulting sessions. That's because I love nothing more than to find what shines in the ideas of people and organizations — and help make those ideas shine even more. That work almost exclusively revolves around translating expertise — your own, or someone else's — to lay the foundation needed to change those ideas into action.
Whether you are translating your own expertise, or you're in a position where you are frequently doing that for others, those consulting sessions are the core of my work with people just like you. But there's only so much ground you can cover when you're focused on a single outcome or deliverable. And when you're working on one or two core ideas, it's easy to lose sight of how you can apply that methodology to every situation you may encounter translating ideas.
That's why I've created this opportunity to work with me and a small group of fellow experts and translators like you to learn how to recognize and understand the core components of the Red Thread System. The result? You'll leave with the fundamental skills to reliably and repeatedly follow the same process no matter what idea you are building or translating.
The Le Cordon Rouge Intensive Mastermind will take place virtually in November of 2021. The program will be limited to 10 hand-picked participants — admission is by application only.
Over the course of three focused group sessions, we'll walk through each element of the Red Thread and how to discover it for yourself and apply it to your own messaging, content, and work.
Each group session will be built around learning and applying the core components of the Red Thread process.
Clarifying an idea, choosing an Application or use case, and setting the desired Outcome for your message

The Conversational Case — a quick and easy way to start the Red Thread of your idea

The Red Thread Statements — the five core elements of the Red Thread itself

The Red Thread Storyline — a 60-second summary explanation of your idea (think of this like an elevator pitch or an introductory paragraph)

The Red Thread Throughline — a one-sentence summary of your idea and why it's important

How to adapt the Statements, Storyline, and Throughline for multiple uses and audiences
In addition to the group sessions, you will have a 30-minute one-on-one meeting with Tamsen to walk through your Red Thread and receive feedback. 
At the end of the engagement, we'll have a 90-minute showcase where you'll present their Red Thread to the group. 
Online Meeting Schedule:
Tuesday, November 16, from 1:00 - 4:00 pm EST

Wednesday, November 17, from 1:00 - 4:00 pm EST

Thursday, November 18, from 10:00 am - noon EST and 1:00 - 2:00 pm EST

Choose your time for a one-on-one meeting the weeks of November 29 and December 6

Red Thread Showcase, Friday, December 17, 2:00 - 3:30 pm EST
We'll record each session and make it available to the group. Have questions? You can send them in advance so they can get answered.
You'll get a free digital download of my book, access to a special Slack group, worksheets, examples, and concrete assignments to take you through each step of the process.
You'll have a ready-built cohort of your peers and fellow idea makers to bounce things off of, work through problems, and share in your success. It's a network of people just like you, ready to change the world with their idea or to help translate the big ideas of others.
"A good story cannot be devised; it has to be distilled."
Raymond Chandler
This program is ideal for founders, authors, speakers, content creators, and message builders that serve ideas bigger than themselves.
Part of an agency, development, or communications group, and need to translate the big ideas of others for your content, marketing, and sales materials? We want you, too!
Are you ready to be a member of Le Cordon Rouge? You'll be successful if you have:
A clear sense of:

What the idea is (including product, service, offering, etc.),
What you want it to achieve for you, your clients, or the world, and
Who your idea would serve

Command of your subject matter and/or demonstrated expertise in your field
Have specific goals, projects, or deliverables related to your idea that you're working on in 2022
Is that you?
Le Cordon Rouge is not for you if you:
Aren't yet sure what the idea is or if it's not unique to you or your client
Don't have experience or credentials in your stated topic or have no proof, beyond your or your clients' own personal experience, that it works
Don't thrive or find value in a group coaching environment
If Le Cordon Rouge isn't the right fit, fear not!
"Words are only the outer clothing of ideas."
Agatha Crhistie
I'm offering Le Cordon Rouge for a one-time payment of $6,500 (or, if you choose to pay monthly, two payments of $3,450). That's $1,000 less than the cost of an individual Red Thread Session with me, with the added benefit of the feedback and support of your fellow mastermind members.
And the best part? If you choose, you'll already have the building blocks you need to be a part of my first-ever Red Thread Accreditation program coming this fall.
What's that? An exclusive program designed to teach the entire Red Thread process using real examples from your work. You'll leave the program trained and certified to use the Red Thread Method to consistently articulate ideas — and why they're important — with your own company, clients, and customers.
Ready to join us? Click below, and you'll head straight to our application form, where we'll ask you a few quick questions about your big idea and why you want to be a part of Le Cordon Rouge! Questions? Email us, and we'll be happy to answer them!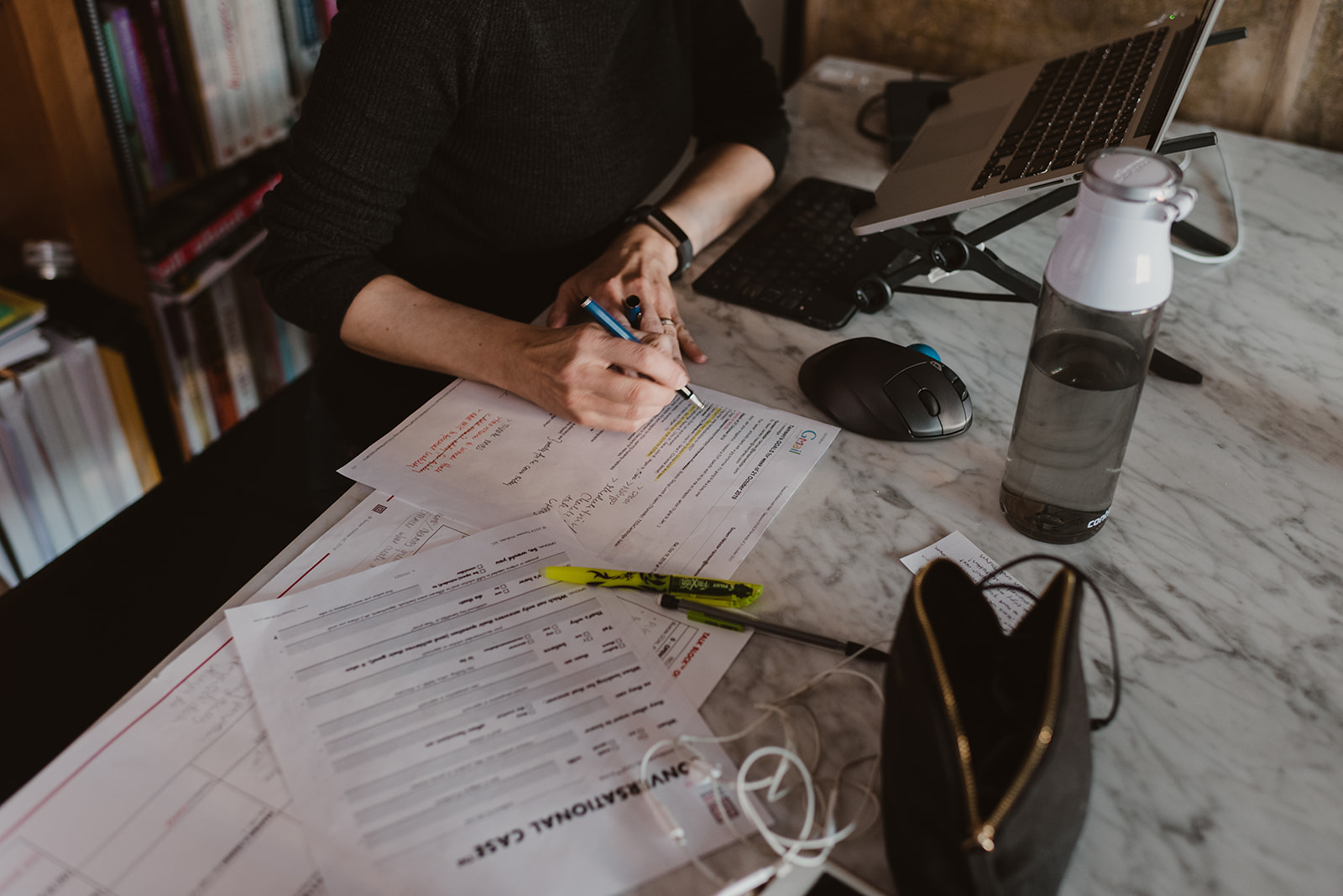 I expected to gain clarity in my messaging and how the message should be delivered. I got more than I imagined possible from the process. I got an entire new understanding of my own material and how to present it to ANYONE.

Brant Menswar - Speaker, Author, Performance Coach

Le Cordon Rouge is a perfect fit for thought leaders who want clear, effective messaging. The intimate group format leads to collaboration and the open sharing of ideas. I highly recommend it!

Pamela Slim - Author, Business coach, and Co-founder of the Main Street Learning Lab

My expectation of Le Cordon Rouge was the experience would be organized, thoughtful, powerful and fulfilling — all of which were true — with the added bonus of some sessions where Tamsen allowed the spontaneous needs of the members to direct the flow and was able to share even more value that was of-the-moment relevant. The Red Thread process is a step by step guide to not only galvanize your idea but to also create a succinct and smart way to share it with the world.

Tami Evans- Speaker, Author, Coach
I went into the experience really not knowing what my idea was or whether I even had an idea...but I left the experience feeling like I do a have an idea that I can build a body of work around, and now my job is to begin building that body of work.

Brenda Barbosa - Journalist, Speech Writer, Copy Writer
I feel very confident and have a much clearer understanding of my own message- where it came from, why it's relevant, how I can deliver it so I can get 1,000 yes's and what my call to action is.

Tara Whitney - Author, Speaker, and Coach
I was concerned that I would not receive the value and answers to my long time struggle with my messaging . Not only did Tamsen quickly meet my expectations, but she changed my entire outlook to my business for the better. I've never been more excited to accelerate in the fast lane!

Deborah Gardner - Author and Keynote Speaker
Yes, I would reccomend the mastermind, and I have — multiple times! Tamsen is brilliant, the presentations were engaging, the group was fun, and red thread is transformational.

Melissa Boggs - Keynote Speaker; Leadership, Culture, and Agility Coach
I had a professional identity crisis where I couldn't advance at the rate that I wanted to advance until I knew what the heck it was I was doing. After working with Tamsen, I feel like my identity crisis is gone. I came away knowing exactly who I am as a professional. We took all of the pieces of what I do, combined them together, and distilled out the parts that made the most sense and put them in an order that would not just placate me and my need for an identity, but actually help people understand what I do.

Jason Seib - Coach, Speaker, Author