Ideas are built on stories.
In the Red Thread Workshop, you'll learn not only the "how" of creating content that drives awareness of your big idea but the "why," as well. 
For over 20 years, I've helped people and organizations build big ideas — big ideas like yours. 
And in building those big ideas, I've learned a thing or two about how the biggest ideas change how people see, and what they do as a result. 
The key to that kind of change — real, sustained change in thinking in behavior — doesn't lie in changing what people already want and believe. It lies in validating what they want and believe.
Because how people see drives what they do, you need to build their case for change. You need to build their case for your idea.
It's this fundamental truth that led me to develop The Red Thread®, a step-by-step system to connect the answer your idea represents to the questions, the goals, of the people who need to act on it. 
The magic? When you find that connection, you also find the key to turning your idea into something they can't unhear. Something that changes the way they see their world… and yours.
But, discovering that connection is nothing unless you deliver that content about your idea consistently, and in a way that not only remains flexible to appeal to your varied audiences, but can be duplicated time and time again. 
Join me in the Red Thread Workshop, and you'll gain an overview of how to discover the components that make up your Red Thread, and the tools and structure that can make sure your message not only stands out—but is built for the buy-in it needs.  
Make your content irresistible .
Is this workshop for you?
To answer that question, let's put that into a Red Thread:
Your Goal: How can I talk about my idea—or my organization's product, service, or expertise—in a way that drives awareness, consideration, and leads?
The Problem: There's a big difference between what you think your audience wants to hear and what will actually drive them to action.
Truth: The best ideas are built as stories—both in their head, and yours. And all stories are built on core beliefs and principles we all share.
Change: Learn a repeatable content-building structure that defines your content's goals and objectives and uncovers the stories your audience will tell themselves about your idea.
Action: Join me in this workshop as we learn to do just that with idea builders and idea translators just like you.  
How would you use the Red Thread Workshop?
"Words, mademoiselle, are only the outer clothing of ideas."
Agatha Christie
Clearly define the goals and objectives for every piece of content you create and implement a process to achieve them

Use the five key concepts that create a Red Thread® (your content's core message) to title, structure, summarize, and write your content

Uncover the core principles your audience already belives in to get buy-in for your idea.

Develop outlines for content anywhere from 100 to 10,000+ words

Add variety and interest to your content by learning how to discover what form people like your content to take
The Red Thread Workshop Experience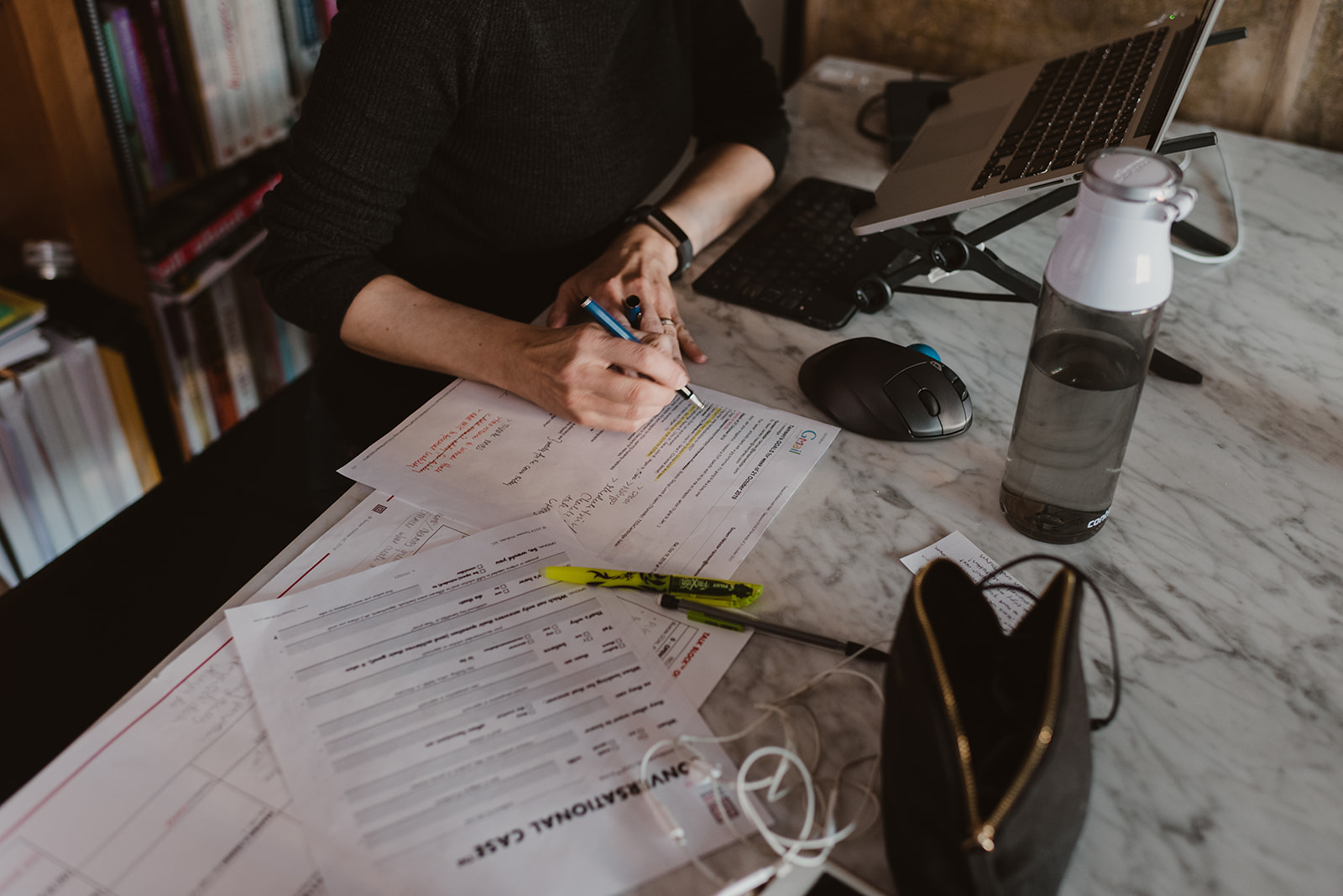 For years I've offered one-on-one consulting sessions. That's because I love nothing more than to find what shines in the ideas of people and organizations — and help make those ideas shine even more.
But I wanted a way to serve a wider audience by teaching the fundamentals of the Red Thread and giving them a concrete tool so that they could start developing content through that lens right away. The Red Thread Workshop is a program built from years of experience doing just that at conferences and directly to companies—and now directly to you. 
Together, we'll work through a content-building workbook, and you'll learn a step-by-step process for finding and using the building blocks of content that rocks for *you * and your company or brand.
These four-hour virtual programs typically run on Tuesday afternoons from 1:00 - 5:00 pm EST on Zoom.
During the workshop, we'll:
Go over tools to identify your content's goals, and how to use the Red Thread process to implement them 

Learn about the five key concepts—Goal, Problem, Truth, Change, Action—that create a Red Thread® (your content's core message) and how to use them

You'll get a workbook, examples, and live message spotlights from two of your fellow workshop participants to supplement your learning throughout the workshop

You'll have access to the recording of the workshop for a year to revisit as you continue to implement the Red Thread in your work
"A good story cannot be devised; it has to be distilled."
Raymond Chandler
This workshop program is ideal for founders, authors,  content creators, and message builders that need to get buy-in for ideas bigger than themselves and are looking for a consistent, repeatable way to get that message out in the world. New in 2023, we've dedicated each workshop to a different interest group so you will also gain added insight from your peers in your field! 
Part of an agency, development, or communications group, and need to translate the big ideas of others for your content, marketing, and sales materials? We want you, too!
Are you ready to join the workshop? You'll gain the most if you: 
Have a clear sense of: 

What your idea is (including product, service, offering, etc.),

What you want it to achieve for you, your clients, or the world, and

Who your idea would serve  

Are responsible for the day-to-day communication of your own or your company messages 

Well-versed in the goals, challenges, and behaviors of current and ideal customers and clients
Is that you? Extra Early Bird Registration is open now! 
This workshop is not for you if you:
Aren't yet sure what your idea is or if it's not unique to you or your client

Aren't familiar with basic marketing, messaging, and customer behavior  principles  

Don't thrive or find value in a group workshop environment
If the Red Thread Workshop isn't the right fit, fear not!
INVESTMENT IN YOUR MESSAGING
"When you know what someone wants, you know where the story starts"
Registration for the Red Thread Workshop is offered for a special early-bird rate a month in advance of $395. After that, the price is $450 until a week before registration, then $595 until registration closes.
The best part? If you choose, I'm offering up two special spotlight slots where we'll work directly on your idea as our example throughout the workshop, meaning you'll walk away with your own content right away. It's like working with me directly to help refine your messaging but for over $4,500 less than the price of a 1:1 Red Thread Super Session. The cost for the workshop and spotlight slot is $1,950. Interested? Email me to be considered for the slot.
Click below, and you'll head straight to purchase! Questions? Email us, and we'll be happy to answer them!
December 12 - Owners